Dr. Bijal V. Karvir -
Pediatric Gasteroenterologist in Mumbai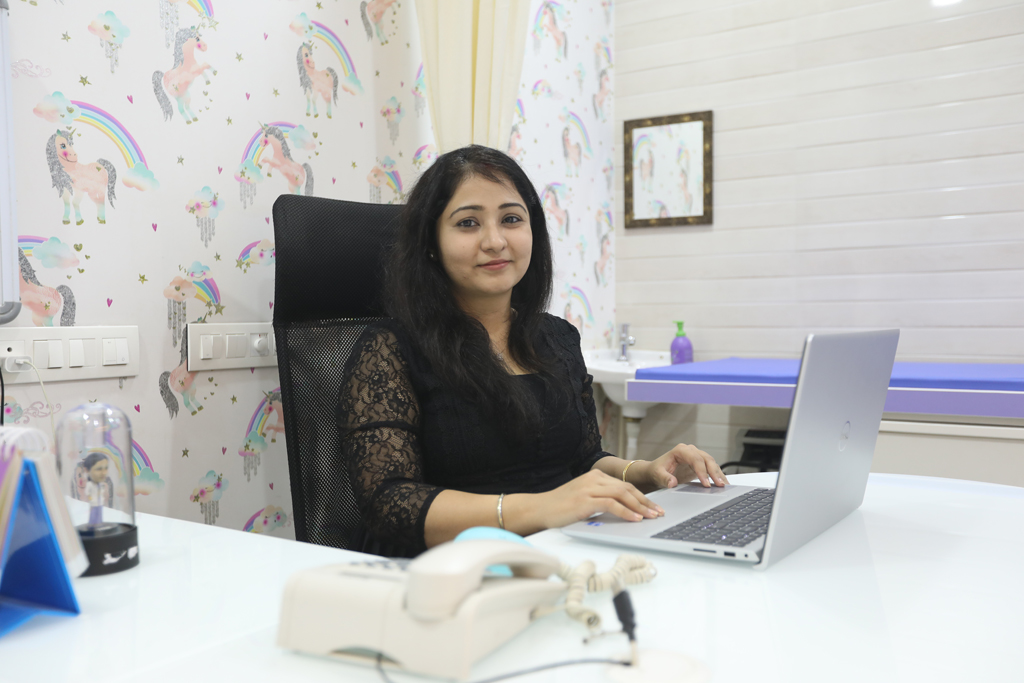 Dr. Bijal V. Karvir is a renowned Pediatric Gastroenterologist, Pediatric Hepatologist and Pediatrician in Mumbai. She has 10 years of experience in the medical field. She received the FPGHN - 2017 award. After completing her basic medical training (MBBS) from KJ Somaiya Medical College in Mumbai and Post Graduation in Pediatrics (DNB) from Western railway Hospital in Mumbai, she completed her super specialization in Pediatric Gastroenterology from LTMG Hospital in Mumbai.
The Pediatric gastroenterologist in Mumbai works at The Children's Hospital Mumbai in Malad West (Mumbai). Currently she is practicing at Globus Hospital in Mumbai. She is an active member of ISPGHAN (INDIAN SOCIETY FOR PEDIATRIC GASTROENTEROLOGY, HEPATOLOGY, AND NUTRITION), IAP, Malad Medical Association, and Indian Medical Association (IMA). Dr. Bijal V. Karvir is the top Pediatric gastroenterologist in Mumbai keen interest areas include Pediatric & Neonatal Liver Diseases, Celiac Disease, Chronic Diarrhea, Pediatric Diagnostic & Therapeutic Endoscopies including removal of foreign bodies in GI Tract. Her services include Pediatric Colonoscopy, gastroscopy, metabolic liver disease treatment, wilson's disease treatment, etc.
What is a Pediatric Gastroenterologist?
If your child has a digestive system, liver, or nutritional problem, a pediatric gastroenterologist has the expertise to treat your child. Children's digestive, hepatic, and nutritional disorders are often different from those experienced in adults. Pediatric gastroenterology requires specialized training and expertise.
Pediatric gastroenterologists treat children from the newborn period through the teen years. They have chosen to make pediatric care the focus of their medical practice, providing vast expertise in the treatment of newborns, adolescents, and teenagers.
What Types of Treatments Do Pediatric Gastroenterologists Provide?
Pediatric gastroenterologists often treat the following conditions:
Bleeding from the gastrointestinal tract
Lactose sensitivity
Food intolerances or allergies
Gastroesophageal reflux illness that is severe or complex (reflux or GERD)
Inflammatory
Chronic or severe diarrhea
Pancreatic insufficiency (including cystic fibrosis) and pancreatitis
Nutritional problems (including malnutrition, failure to thrive, and obesity)
Feeding disorders
Short bowel syndrome
Liver disease
Acute or chronic abdominal pain
Vomiting
Chronic constipation
Pediatric gastroenterologists are specially trained to conduct digestive system diagnostic tests on children. Endoscopes and other specialized equipment are used to inspect the inside of the digestive system or acquire tissue samples (biopsies). Pediatric gastroenterologists conduct endoscopic procedures such as esophagogastroduodenoscopy and colonoscopy. Pediatric gastroenterologists also treat bleeding, swallowing disorders, and other gastrointestinal issues. They have considerable experience in the care of nutritional difficulties in children, including the placement and administration of feeding tubes and intravenous nourishment, as well as the diagnosis and treatment of newborns, children, and adolescents with liver disease.
To book an appointment with Globus Hospital call on 98331 06104, 98331 87118 or visit our hospital at 201, Second Floor, Kothari Milestone Mall, Near Natraj Market, S.V Road, Malad West - 400064. For hospital directions click here.